Events
Food Helpers Community Outreach
www.foodhelpers.org
​
The ultimate goal of Food Helpers is to weaken the
chain of events that leads to food insecurity.
Food Helpers will be at Thomas Presbyterian on December 8, 2021 and beginning in January 2022, the third Wednesday of every month from 9am-11am.
Christmas Eve Service
Christmas Eve service at Thomas Presbyterian will take place on
Friday, December 24, 2021 at 7pm in the Sanctuary
We look forward to seeing you there!
Blue Christmas Service
Blue Christmas Service at Thomas Presbyterian
Wednesday, December 15, 2021
7pm in the front lot (sanctuary, if raining)
1068 Linden Road, Eighty Four, PA 15330
Why a Blue Christmas Service?
Is it hard for you to find joy at Christmas? Do you struggle to hear the good news of the season? Perhaps Christmas brings memories of past loss or trauma. Perhaps others' cheerful hustle and bustle feels intrusive in the face of all the burdens you're carrying. Or perhaps you just need a little break from all the hectic seasonal activity.
You are invited to join us for a quiet, contemplative service of hope and light in the midst of darkness. We will gather to remind each other that God is with us and then we'll go inside for some hot cocoa. Dress warmly!
Christmas Breakfast and Puppet Show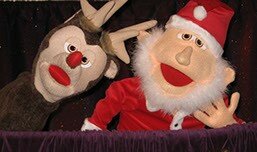 Holiday Christmas Breakfast and Puppet Show
Saturday December 11, 2021
9:00 AM
Thomas Presbyterian Church
1068 Linden Road
Eighty Four, PA
We will have a balloon artist/balloon twister,
Visit from Santa Claus,
Breakfast Menu: waffles, french toast, scrambled eggs, sausage, fruit, juice, and coffee
Tickets $7 per person with a maximum of $28 per family
Advance tickets can be purchase at the church office 724-941-8910
Or at the door the day of the event.
Advent Kick Off Luncheon
There will be a fellowship luncheon after service on November 28th in the CLC.
A lunch of soup and sandwiches will be provided
and we will be handing out Advent devotionals.
We look forward to seeing you!
Contact: Kathi Durkin: kdurkin6@verizon.net