Food Helpers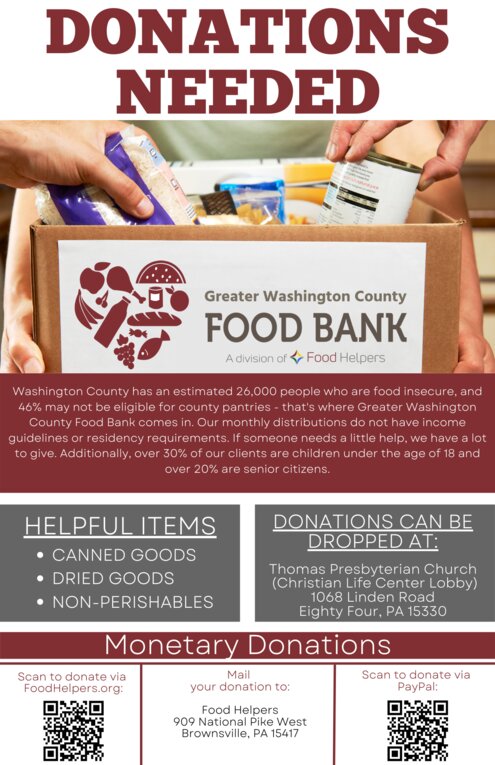 The Washington County Food Bank has developed a new program known as Food Helpers. The truck to trunk program is held outside and uses the parking lot. Due to the growth of the program in our area, a request was made to hold Food Helpers in our parking lot monthly beginning January 2022. Food Helpers will hold their distribution the 2nd Tuesday of the month from 9:00 – 11:00 am beginning January 11, 2022.
This program's focus is on outreach and healthy food options. They provide pre-packaged boxes of food items along with fresh produce and eggs from their 25 acre farm and from local farmers when available. They currently bring enough food to distribute to 100 families and individuals in need. This number can be increased if necessary.
Food Helpers is to serve as a short-term emergency food bank for people who have lost their jobs, have family issues, health issues, etc. This will serve those who do not qualify for the regular monthly Food Bank. In addition to the food being provided, they plan to follow up with the clients to offer help finding resources in the community to help with their particular needs.
Proxy forms are available for those unable to come to our Church. This would allow a designated person to pick up the food and deliver it to the client. We can make referrals to this program if we know of someone in need.
Volunteers are welcome to help with traffic control, greet clients, load boxes, etc. If interested, please contact Patti Korintus: pkkorintus@verizon.net
For more information about Food Helpers please visit their website at https://www.foodhelpers.org