One Great Hour of Sharing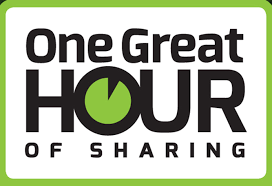 APRIL MONTHLY MISSION
Around the world millions of people lack access to sustainable food sources, clean water, sanitation, education, and opportunity
Each gift to One Great Hour of Sharing (OGHS) helps to improve the lives of people in these challenging situations. The Offering provides us a way to share God's love with our neighbors in need. In fact, OGHS is the single, largest way that Presbyterians come together every year to work for a better world.
One Great Hour of Sharing, received during the season of Lent, makes a difference in the world through three impactful programs:
· Presbyterian Disaster Assistance (PDA) – Works alongside communities as they recover and find hope after the devastation of natural or human-caused disasters.
· Presbyterian Hunger Program (PHP) – Takes action to alleviate hunger and the systemic causes of poverty so all may be fed.
· Self-Development of People – Invests in communities responding to their experiences of racism, oppression, poverty and injustice and educates Presbyterians about the impact of these societal ills.
Your Mission Team – Keith Korintus, Becky Bowman, Pat Butto, Chris Frisk, Kristen Heinze & Patti Korintus