Thomas Christian Preschool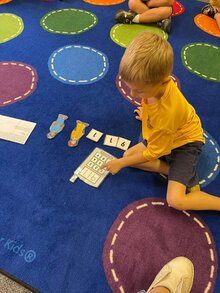 Thomas Presbyterian Church is proud of its Thomas Christian Preschool. Led by a committed and dedicated staff, the Preschool provides a caring environment for children 3 & 4 years old and pre-K 5 year olds. Thomas Christian Preschool is open Monday through Thursday from 9:00AM to 12PM. The Preschool runs from September - May. Thomas also provides Thomas 2s, for 2 year olds on Thursday.
3 year olds (Bees): Monday, Wednesday, and Thursday 9:00 am - 12:00 pm
4 year olds (Bears): Monday, Wednesday, and Thursday 9:00 am- 12:00 pm


PLEASE CALL THE DIRECTOR FOR MORE INFORMATION ABOUT THE BEES AND BEARS PROGRAM FOR THE 2022-2023 SCHOOL YEAR.
Thomas Christian Preschool Director - Terri Kleinhans 412-651-5391


THOMAS 2'S ARE CURRENTLY FULL FOR THE 2022-2023 SCHOOL YEAR.
Please contact the program director for more information or to be placed on the waiting list.
Thomas 2s Director - Kathy Gaab 724-941-3845
Preschool Board Liason - Peggy Flynn mlflynn8@hotmail.com
THOMAS CHRISTIAN PRESCHOOL
If you are ever in the church on a weekday morning you are certain to hear the joyful sound of our preschool kids actively learning! The kids delight in the creative STEAM (science, technology, engineering, art and math) projects their teachers have developed for them. Recently their science and engineering projects produced fascinating results! After reading How The Grinch Stole Christmas, the kids thought the Grinch needed a bigger heart. They made him one! The kids did an experiment using vinegar and baking soda and made the Grinch's heart bigger! The kids also counted presents and loaded them on their sleds!
Another special part of their curriculum is Team Tuesday. The kids compete in teams with a focus on good sportsmanship and congratulating their opponents. It is certain that these students will set the example of good and fair play in their future learning environments.
The Thomas Preschool children will be selling Sarris Easter Candy as a fundraiser. The orders will be delivered the week before Palm Sunday. Don't miss your chance to get a sweet treat and support our preschool kids!